Menu
Customer-Oriented Proposals

Our teams make sure that our products go beyond simply satisfying the specifications and capabilities. We are happy to make suggestions and proposals to maximize the user-friendliness of our products. We are not just selling what you see in a catalogue. We work closely with our customers to offer the most reasonable price for an operator-friendly and low-running cost product.

Engineering

We design an optimal product for a customer by fully utilizing our design and manufacturing knowledge we have accumulated for over 50 years. We assign a designated designer for a customer project where the designer is ready to work on details, including the vehicle's exterior and accessories. The designer also selects the optimal button location in the operation touch panel, an effective handrail position of a handrail and an appropriate shape of work platform for customer needs. Also, we can design a product from scratch to fully actualize the customer's needs.

Flexibility

HOKUJU runs each manufacturing process independently, from design, metal processing, painting, assembly to electro outfitting. This manufacturing model allows us to quickly and flexibly respond to sudden changes in design and unexpected issues that may arise during the manufacturing process. Whether you are a domestic or an overseas customer, you will get the same level of support and service.
We want to manufacture railroad vehicles that our customers truly enjoy using.
This idea has and will be the backbone of our work.
Railroad RAMS
What is railway RAMS?
First of all, look at an article printed on the Nikkan Kogyo Shimbun (on the first page printed on August 5, 2010).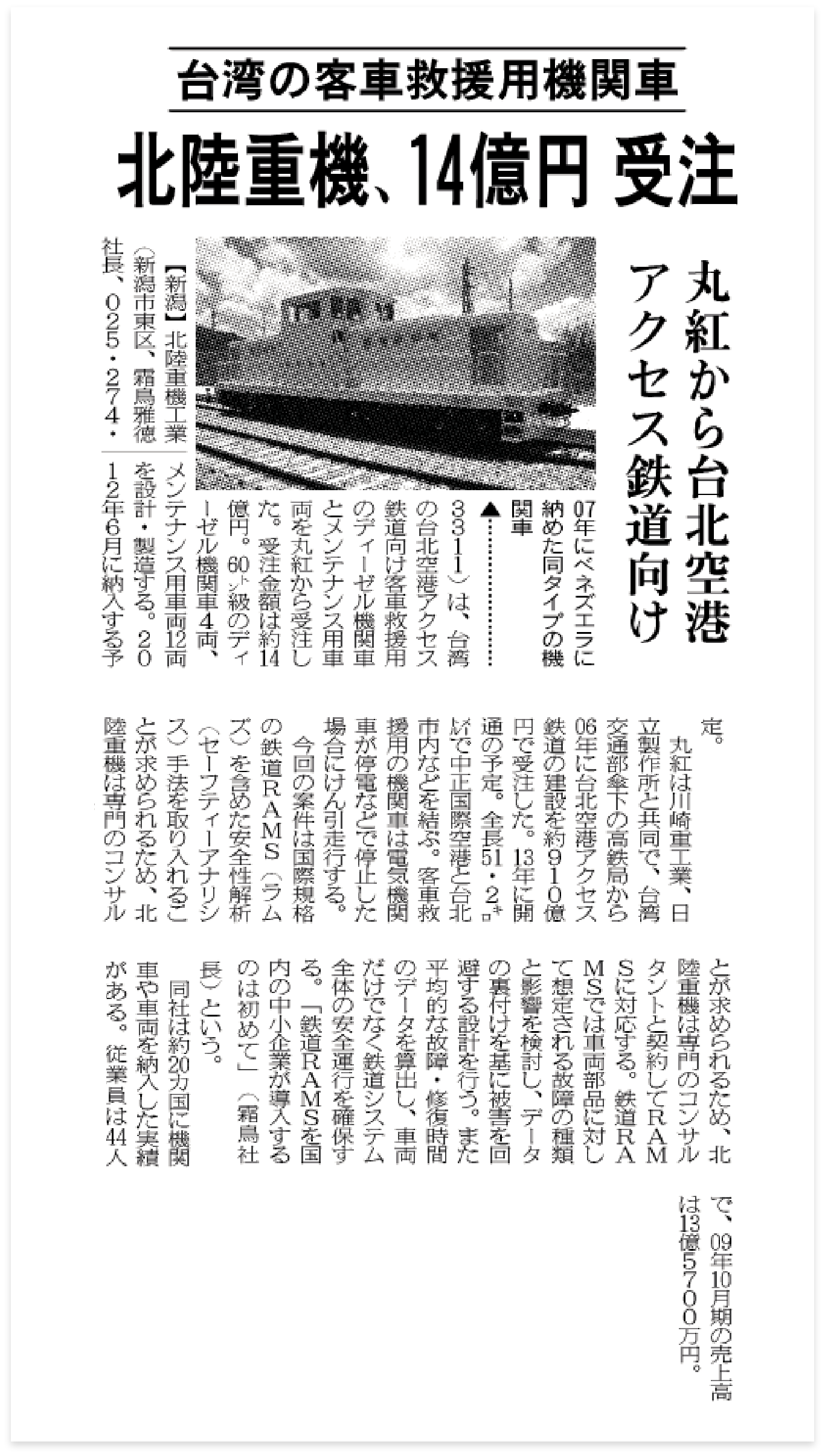 "Railway RAMS" stands for Reliability, Availability, Maintainability and Safety.
In recent years conformity to the RAMS standard is often required in the contract of overseas railway projects (in Europe and Southeast Asia in particular) and companies incapable of satisfying the requirements are likely to be excluded from the candidacy of bidding.
While Japanese railway vehicles are at the best quality level in the world without doubt, they are based on standards created in Europe and, because detail technical preliminary examination based on data is necessary, Japanese enterprises that have been less enthusiastic in data accumulation are behind the race in view of conformity to the RAMS standard.
In recent years, conformity to the RAMS standard is required not only for passenger cars but also for maintenance vehicles, and we decided to conform to the RAMS standard.
While the current project is rather hard to achieve for not a large enterprise such as us because a good sum must be paid to a professional consultant, the experience can be applied to later projects once data accumulation is made, so that we will be able to meet requirements for conformity to the RAMS standard in maintenance vehicles, which may be requested for in projects ordered by a trading company or passenger car manufacturer, at lower costs.
Documents we are preparing for the project described in the article above include the following.
| | |
| --- | --- |
| 1 | Equipment System Assurance Plan |
| 2 | Design Safety Studies |
| 3 | Equipment Safety Requirement Specification |
| 4 | Equipment Hazard Analysis and Hazard Log Report |
| 5 | System Hazard Analysis |
| 6 | Subsystem Hazard Analysis |
| 7 | Interface Hazard Analysis |
| 8 | Operating System Hazard Analysis |
| 9 | Equipment Fire Engineering Report |
| 10 | Equipment FMECA Report |
| 11 | Equipment FTA |
| 12 | Engineering Safety Validation Plan |
| 13 | Engineering Safety Validation Report |
| 14 | Engineering Safety Verificatin Plan |
| 15 | Engineering Safety Verificatin Report |
| 16 | Equipment System Assurance Report include QA |
| 17 | Equipment RAM Demonstration Test Plan RAM |
| 18 | Equipment RAM Demonstration Report RAM |
| 19 | RAM Analysis & Prediction Report RAM |